Product Description
Introducing the Portable Dredge System from Weeders Digest! This DIY-Dredge is a compact, highly portable, 190cc gasoline engine powered, sediment removal pumping system. It is designed to provide homeowners, contractors & shoreline management services the ability to excavate and transfer unwanted sediment out of lakes and ponds. Our Suction Dredge is an efficient alternative to using an excavator, which is expensive, has limited reach, may be destructive to the shore, and typically deposits the material adjacent to the shore, only to wash back in with the first good rain. It also works well as a fire pump.
Our portable Boat Mounted Suction dredger is particularly effective in removing sand, silt, and that ruins the waterfront and prevents one from enjoying beach and costs thousands to hire 3rd party companies to remove. The excavation capability is about 9,323 cubic feet of water per hour, along 211 cubic feet of sediment per hour. These volumes may vary depending upon the nature of your application.
The unique design of the DIY-Dredge allows you to hover the pump over the bottom which makes it very efficient. The centrifugal pump is equipped with a mill that effectively grinds down the roots of reeds and other seaweeds. The silt mixture of mud and weed is excellent for the garden etc.sediment, distance pumped, and your energy & skill level, but many operators state that they are able to pump a much larger volume than our estimates. If you are cleaning a modest area, such as around a dock or boat slip, you can expect to get the job done relatively quickly.
The mud is not going to come out of your discharge hose looking like toothpaste. Even expensive industrial dredges can't do that. You will be pumping a lot of water along with the sediment. On the other hand, this unit will provide you with the means to renew the quality of your waterfront, and the quantity of removed sediment will be limited only by the amount of time & energy that you put into it.
STANDARD CONFIGURATION: The standard configuration is in stock and available for purchase.
INTAKE SHAFT LENGTH: 8 ft (Other Shaft length options include: 4' - 5' - 6' - 10' but are now always readily available)

DISCHARGE HOSE: - 2.5 inch OD heavy duty flat hose - 150 ft long (Additional hose lengths up to 450 ft totalling 3 x 150 ft hoses can be added upon request.)

Briggs & Stratton Professional Series 190cc Motor
Accessories:
Bottom Softening Knife Attachment for Loosening firm packed bottoms - This attachment will also help product the dredge blades from large rocks.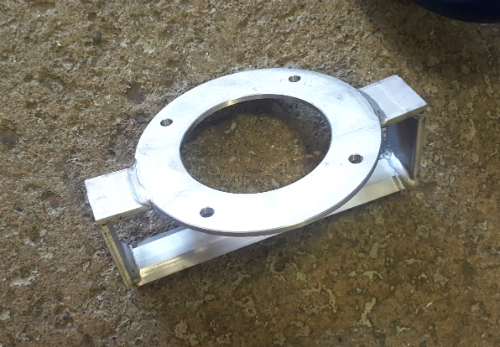 The DIY-dredger is delivered with a variable mounting, 8 Foot transparent hose and one Cam Lock coupling. You should mount it on a raft, a steady boat or you could do some dredging from the ice. Best is to mount it on a platform that you can remove from the raft when you want to use the raft for something else.

Many people also buy an extra quick coupling so you can easily divide the hose into the appropriate lengths..
The maximum hose length we recommend is 450 Ft, maximum lift height is 78 Ft. Stones and rocks as large as an inch can pass through the pump and anything larger is blocked.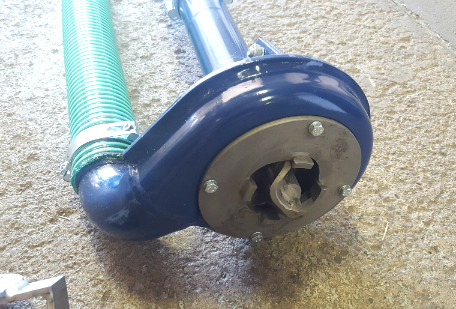 BENEFITS
SUMMARY
– Does not pollute lakes, ponds or streams
– No damage to the beaches or the bottom
– Reed roots and mud easily suck up and get pumped away
- Excavation capability is about 9,323 cubic feet of water per hour, along 211 cubic feet of sediment per hour
– The sludge can be pumped up to 492' away depending on lift height and sediment concentration.
– Proven design has been used for many years.
– Also works well as a fire pump
TECHNICAL INFORMATION
Engine: Briggs & Stratton Professional Series 190cc (3.8 kW), 4-stroke

Weight 154 lbs

Standard shaft length is 8 Ft

Ball bearings, oil lubrication, virtually non-wearing mechanical seal

Hose connection 8" (63 mm)

Max lift height 78 Ft

Max. operating depth is 8 feet with standard shaft but a 10ft shaft is available upon request
CALL US WITH ANY QUESTIONS! 877.224.4899
Product Reviews
Find Similar Products by Category
Customers also viewed